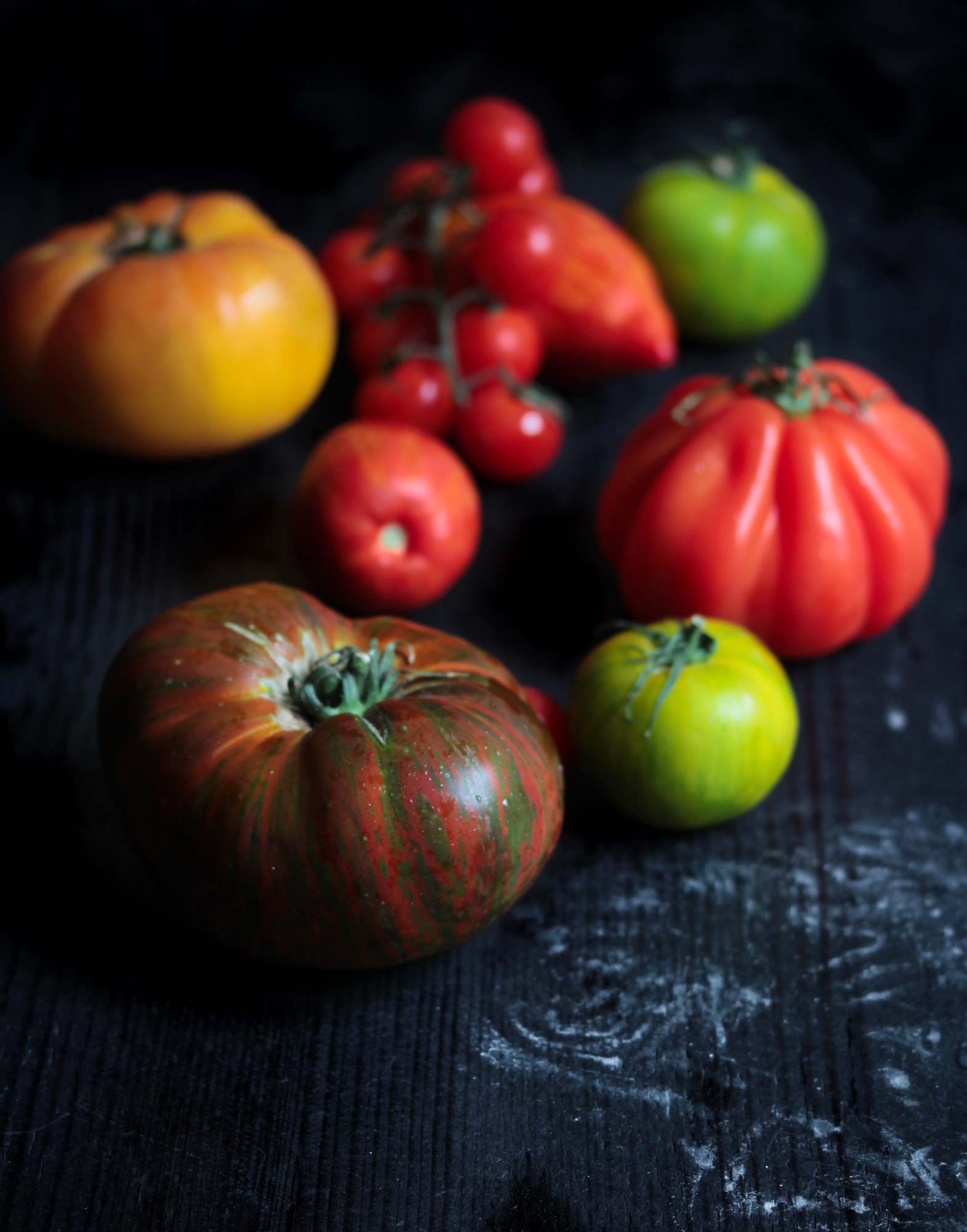 Allright, I might as well warn you right away, basically this recipe is a bare-cupboard dish .
You see, when you don't have much left, when you organized poorly, when you forgot to go shopping and especially when you started too late… And wouldn't you believe it, that day your husband comes home earlier than usual (what a nice surprise!! 🙁 ) and on top of that he's starving like never before!!
In short, you're left with a hungry husband who's not willing to wait !!!
Well, when that day arrives, surprise surprise, what happens when you open the fridge: woe to you, there's nothing, rien, nada, klum, walu!!!
Just a bunch of cherry tomatoes and a box of mushrooms, bought (you don't really recall when, don't really recall where, don't really recall why.)
In short, it's a disaster!
Well guess what, this day happens to me, and there, panick-stricken, I open the fridge, I take out my box of shrooms and my basket of cherry tomatoes, and I tell myself: « Nono, you've got 2 minutes to find a solution ».
As always, when you find yourself in this situation, you instinctively head for the cupboard searching for your friend the pasta.
You take out your box of capellini, that is done in barely 3 minutes, you roll up your sleeves and you jump into action.
While boiling the water, you cut the vegetables « very roughly », and while the pasta is cooking you prepare the sauce.
And voilà, in 10 minutes it was ready…
So I don't know if I can believe him or not, since he was very very very very hungry (yes, when my husband is hungry, he's serious, lol) but well, apparently for my husband, it was, I quote : « the best pasta recipe that you've ever made me! »
At any rate, I had never seen him gobble such a quantity of pasta.
It just goes to show that sometimes it's when there's not much left in the cupboards that we make the best dishes 😉
INGREDIENTS for 2-3 persons
a dozen champignon mushrooms
3 onions, or like me that day, frozen caramelized onions bought in the kosher section
30g freshly grated parmesan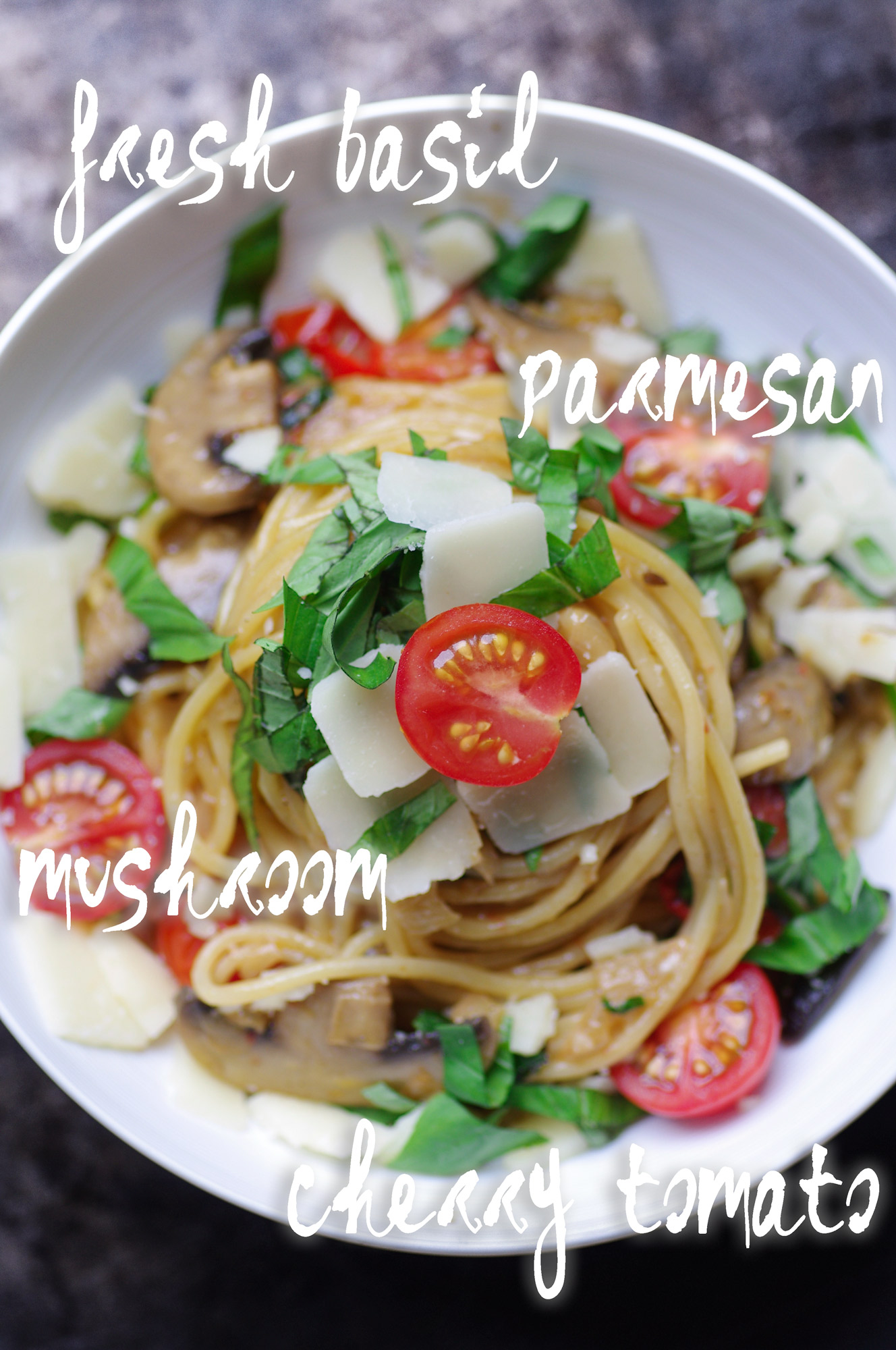 RECIPE
In a saucepan, bring a large volume of water to boil.
Meanwhile , peel the onions and dice them.
In a frying pan put a nice knob of butter as well as a trickle of olive oil then add the onions.
Cook, stirring, until they become translucent, then add the powdered sugar.
Cook for 2-3 minutes over high heat, then reduce the intensity of the heat and let comfit gently for about twenty minutes.
Okay well I admit, I used already-made caramelized onion that I buy frozen at the kosher store nearby my place.
While the onions are simmering, peel the mushrooms (or if you prefer, brush them to remove the dirt) and chop them finely.
Peel the garlic cloves, chop them finely and sautée them for 2 minutes in the oil.
Add a nice knob of butter as well as the mushrooms, and sear them well over an open flame, then incorporate the thyme and the powdered nutmeg.
Cook until the mushrooms are browned and set aside.
In another frying pan put a knob of butter and a tablespoon of olive oil.
When the butter foams, toss in the cherry tomatoes and sear for about 2 minutes.
Pour a nice spoonful of salt in the saucepan of boiling water and then put the pasta while not forgetting to stir occasionally so they don't stick together.
In a frying pan put the caramelized onions with the fried mushrooms and the cherry tomatoes.
Add the cream and a little grated nutmeg, salt and pepper and mix well and reduce to medium heat.
When the pasta is cooked, pour a little (1/2 ladleful)  of the cooking water into a glass then pour the pasta into a colander and drain well.
Then cool it under cold water.
Add the freshly grated parmesan and the basil to the sauce and let simmer for 1-2 minutes.
Pour the pasta in the sauce and add the cooking water.
Stir well and let reduce for one more minute to allow the sauce to coat the pasta well.
Taste and adjust seasoning if necessary.
Arrange on a deep plate, allowing a glimpse of the mushrooms, tomatoes and basil.
Place a few chunks of parmesan on the top and serve immediately.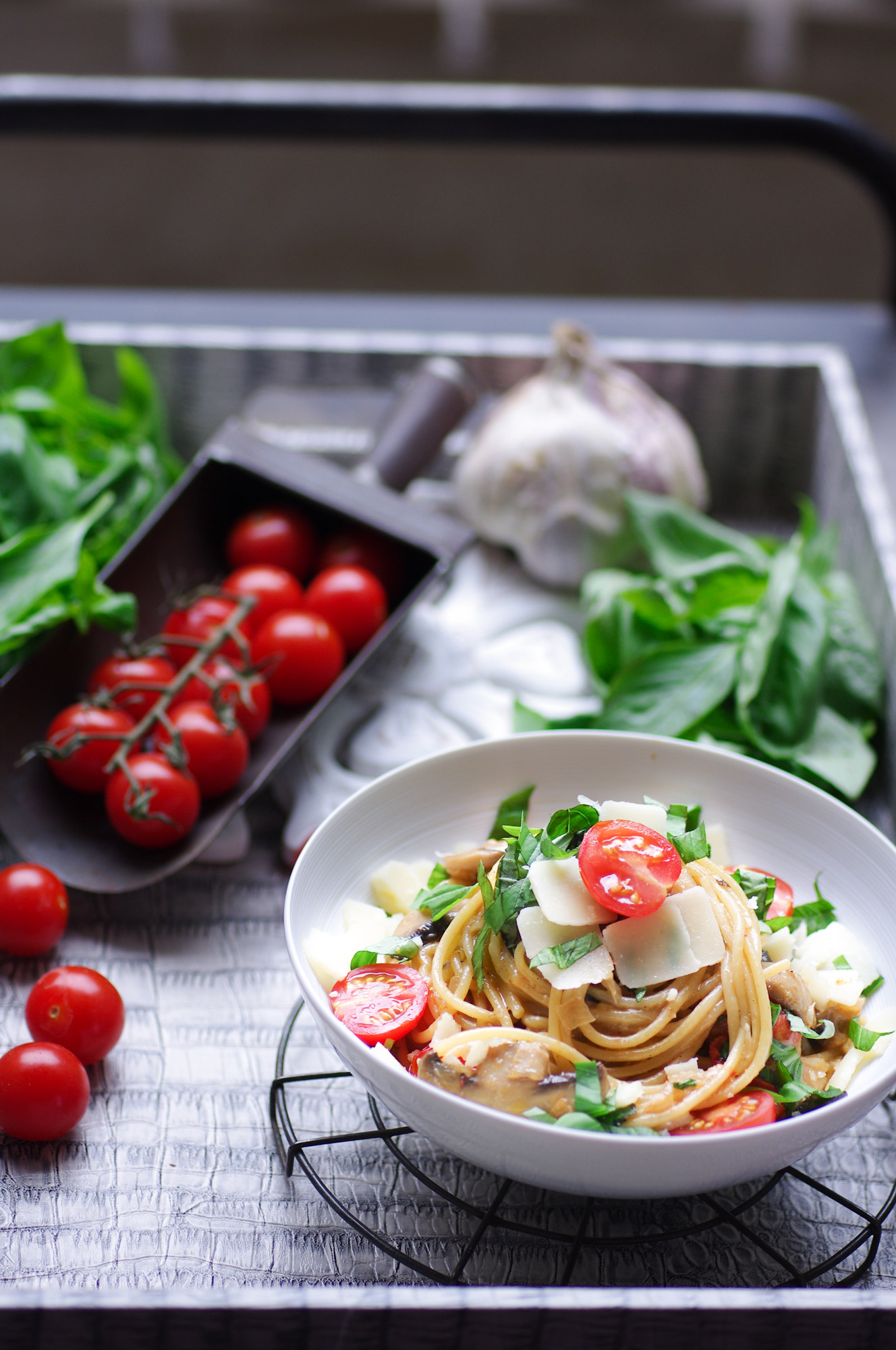 TIPS
Reserving some of the pasta 's cooking water to put in the sauce allows it to soak into the pasta well later on, and to tenderize the sauce to bring it to the perfect consistency. So do not forget!!
Parmesan is better if it is freshly grated…
Don't cut the mushrooms too finely because they release water during cooking and therefore reduce in volume.